Dr. Sylvia Hurdle is a veterinarian in East Kootenay, who is committed to researching the latest in veterinary technology.
Book An Appointment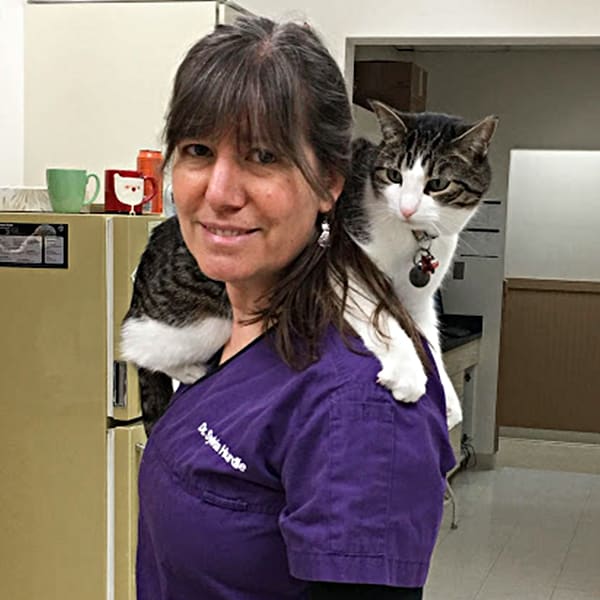 Dr. Sylvia Hurdle
Dr. Sylvia Hurdle graduated from the Ontario Veterinary College in 1991. She worked in farm animal practice in Grey County, before moving to Toronto, where she worked at the Veterinary Emergency Clinics for three years. In 1998 she moved to Ottawa where she owned and operated a pet practice for 13 years. After selling the practice, she pursued other interests, including completing a certificate in laboratory animal medicine. She moved to Western Canada in 2015 and joined CVH in 2016. Dr. Hurdle likes to keep up to date, and has taken many courses to improve her knowledge and skills, particularly in abdominal ultrasound, and the diagnosis and treatment of oral disease. Her special interests are dental and oral disease, geriatrics, and evidence-based medicine.
She started to learn as much as possible about oral diseases early in her career, when she realized many pets suffered from painful oral problems. She has over 20 years of experience reading dental x-rays. With the increased popularity of toy dogs and flat faced breeds, she has been working on increasing her knowledge of juvenile dental problems.
Dr. Hurdle also enjoys improving the wellbeing of senior pets. She believes veterinary medicine has much to offer to improve quality of life for geriatric pets, who often suffer from complex medical conditions such as dental disease, arthritis, kidney failure, and cancer. For her, using her skills as a veterinarian to improve the quality of life of someone's beloved pet, is especially satisfying.